COB strip (Flexible COB LED Strip Light) is a new type of flexible strip products popular in 2019. Now nearly all the big lighting company such as OSRAM, PHILIPS are all involved to develop it. But this new popular products is invent by a Chinese lighting company named EVERLUSTER lighting. Seems that company is not too much big and start from 2009. They main business is led strip and for this new item they cost 2years to invent it. They also own patents for this product. The lighting association of china forecast that in the coming two years, this product will become more and more popular, and they predict that most of the traditional SMD led strip light will be replaced by this COB strip Flexible COB LED Strip, especially the high density strip such as 2216 strip and 2110 strip. It will be a Subversive products and there must be an innovation of the strip market.

What's COB strip Flexible COB LED Strip Light?

So what's COB strip? The COB strip is a new concept created by EVERLUSTER. It means flexible cob strip. It is take the flip chip technical to bonding the chip directly on the FFR board and then cover it by phosphor & silicone gel. Even the COB products already appeared many years ago and now already been a mature product. But for the flexible cob strip (COB strip) it still with a great challenge, it need to solve a lot of problems such as bending resistance, color consistency and light spot.

What advantage of COB strip Flexible COB LED Strip Light?

Regarding this absolutely new products, what's the advantage of it? Why customers prefer it? It mainly with features as follow:

1.Full flexible bendable, can be small angle bend.
2.180 degree big view angle.
3.Without any light dot or light spot.
4.Linear lighting, Simple is beauty.
Here we do some tested to compare with smd led strip light as picture showed.

Now we do test as follow:

A: Dead zone compare.
--SMD strip(120deg light angle) with dead zone as the red marked areas.
--COB strip is 180deg light angle, without dead zone.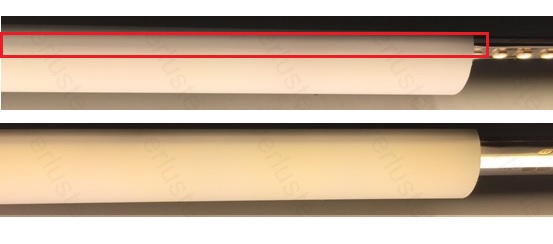 B:
Light dot compare.
--SMD strip with obvious light dot.
--COB strip color even, without any light dot.


C: Bendable resistance compare.
--SMD strip can be wrap no less than 30deg
--COB strip can be small angle bendable as picture showed wrap on a small pencil(5deg).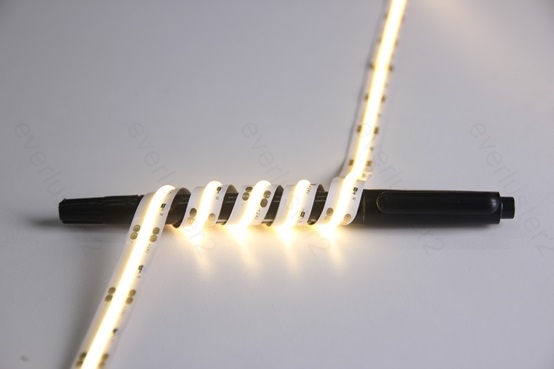 From above pictures, you can clear understand and easy found out that the
COB strip Flexible COB LED Strip light
is really a nice products. It will be really an innovation of the strip market.