In 2019 April 15th, Everluster lighting co.,ltd which from shenzhen published the global first flexible cob strip. It will be a revolution for the led strip lighting products as it with follow advantage:
Without any light dot or dark area.
Light soft, no dazzling.
Arbitrarily Bending.
Global first product with patent.
Now for commercial lighting such as linear light, customers usually use the high density led strip as such as 2216, 2210 led strip. But even with 240leds per meter, you will still found light dot when the profile is thin. Like this: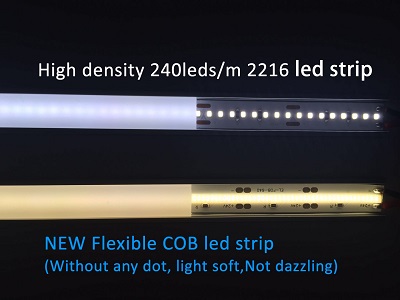 Now the NEW COB strip is take the FLIP CHIP technology, but what the market already have it the cob on the aluminium base.  
So it will be a great innovate of the led strip lighting products.
Products show video: https://www.youtube.com/watch?v=UfkeUiRZdBw